1. Erizo Relleno Sea Urchin
picture is taken from here
Sea urchin or called as Sea hedgehogs is sea animal with small, spiny and has black colour. Sea Urchin can be processed with many different ways. But in Pescaderia Fish Shop, we can find the sea urchin that already being cooked but still in the shell. We can buy this Erizo Releno Sea Urchin for 4 euro
2. Pinchos
picture is taken from here
Pinchos or Pintxo that has the name from Spanish Verb Pinchar, meaning "to poke or stab" is reflected the form of this food. Pinchos is a bite-size appetizer consists by bread, small cut of egg, small cut of vegetables and small cut of fish meat  or any food arranged beautifully with the toothpick pierced through the middle. We can buy it for only one euro.
3. Bocadillo de Calamares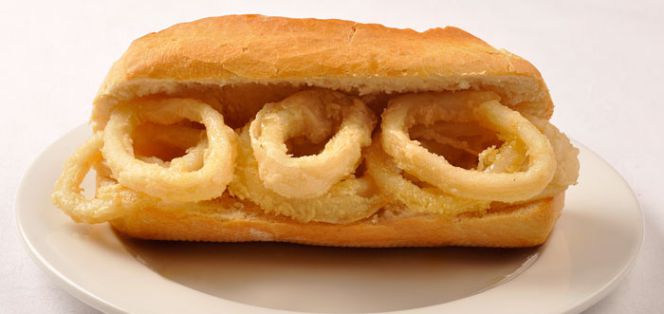 picture is taken from here
This food is basically a fried calamari and a bread, the simple taste of the food is what makes this food one of the good food to eat as street food in Spain, especially in Madrid. Simply because the price is affordable and the taste is great!
4. Tapas
picture is taken from here
Tapas is actually similar with Pinchos, there is a small size of bread with small size of vegetables and meat on it with toothpick staked  in the centre. But Tapas is actually a company for a beer or wine. Sometimes the restaurant didn't put it on the menu but we still can order it. There are two kind of Tapas, the small size that we call as Tapas and the larger size that we call Raciones.
5. Hot Chocolate and Churo
picture is taken from here
In Chocholateria San Gines Madrid, one of the oldest chocolaterias in Madrid, they serve one great menu. That is one thick chocolate with churros. Churros is basically a fried dough with a finger shape and crispy. The combination of hot chocolate and churros make your relaxing day perfect as never before.
Note: Some Pinchos and Tapas can also be found here 100 montaditos