On November 30, 2017, ASEAN has a great loss due to a good man, a dedicated man who was serving ASEAN has passed away. Dr. Surin Pitsuwan in the age of 68 on the last Thursday has just closed his eyes forever because of heart attack. He is a former ASEAN Secretary-General who was also Thai Foreign Minister.
Born on 28 October 1949,Dr. Surin Pitsuwan is a bright student when he was pursuing his study in political study. he was an awardee of the American Field Service (AFS) exchange scholarship as well as an exchange student in Minnesota, USA in 1967-1968. He returned to Bangkok, Thailand and attended Thammasat University for 2 years before winning a scholarship from Claremont Men's College (now Claremont McKenna College) Claremont, California, to complete his B.A. in Political Science (cum laude) in 1972. In 1974 he graduated from Harvard University and earned his Master of Arts title. He did his research at the American University in Cairo as a scholar of the Institute of Higher Council for Islamic Affairs of Egypt from 1975 until 1977 before returning to Harvard, where he received his doctorate in 1982.
His political career began in 1986 as Member of Parliament in Thailand as well as working as lecturer in Thammasat University. In 1992, he served Thailand as deputy foreign minister until 1995. He then becomes Foreign Minister of Thailand under Prime Minister Chuan Leekpai from 1997 – 2001. During that time when it comes to Thailand's ASEAN Chairmanship (1999), he led Southeast Asia's effort to help restore law and order in the East Timor Crisis.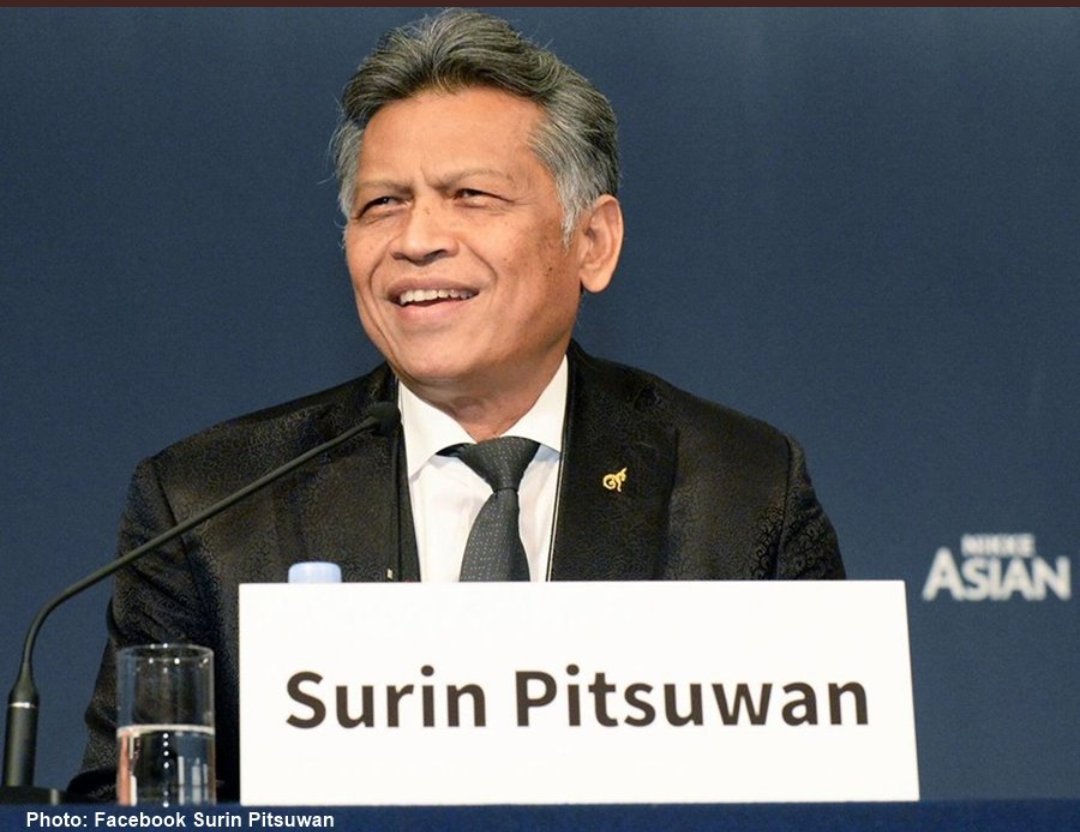 His interest in security field has driven him to active in many institutions. He was working as an advisor to the International Commission on Intervention and State from 1999 – 2001 and then appointed as a member of the Commission on Human Security of the United Nations until 2003. Dr. Surin was also a member of the "Wise Men Group" under the auspices of the Henri Dunant Centre for Humanitarian Dialogue (HDC) in Geneva, advising the peace negotiations between the Acehnese Independence Movement (GAM) and the Government of the Republic of Indonesia.
Dr. Surin is known as a veteran politician; he was a Deputy Leader of the Democrat Party as well as served the National Reconciliation Commission (NRC) which has a duty to bring peace and security to Thailand's deep South. He was nominated by the Royal Thai Government and endorsed by ASEAN Leaders to be ASEAN Secretary-General for in  2008-2012.
Dr. Surin reportedly collapsed before giving a speech in Bangkok and was rushed to Ramkhamhaeng Hospital, where he was pronounced dead on Thursday afternoon due to heart attack. ASEAN official account expressed their condolences. "We are deeply saddened to know that Dr. Surin Pitsuwan, former Secretary-general of ASEAN Passed away today. It is a big loss to  Thailand and the ASEAN Community. We Convey our sincere condolences to his family", ASEAN Tweeted.
https://twitter.com/ASEAN/status/936179301673713664
Thailand's foreign ministry also expressed their condolences to Dr. Surin's family by tweeting, "The Ministry of Foreign Affairs of Thailand has learnt with deepest regret the passing of H.E. Dr. Surin Pitsuwan, the late former Minister o Foreign Affairs and former Secretary General of ASEAN The Ministry wishes to express its most sincere condolences t Dr. Surin's family
https://twitter.com/MFAThai/status/936186399321079808
Dr. Surin was going to be they keynote speaker of ICOAS but God has another plan. Rest in Peace Dr. Surin and thank you for your dedication.